past projects
See how our work created brighter, safer, and more productive workplaces while saving our clients hundreds of thousands on their energy bills and increasing the value of their facilities.
300,000 sq. ft. facility
615 LED high bays replaced
569 interior troffers retrofitted
*59% wattage reduction throughout facility
$150,400 annual energy savings
2.3 year Payback
BAE Systems 300,000 square foot facility was costing them a fortune. With dim, outdated lighting and excessive monthly energy bills they knew it was time to look for a solution. Our lighting experts arrived on site and ran a full analysis of the facility, including past energy bills, to determine exactly what options the enormous space had to start saving on their energy bill. After measuring the lumens of the current facility lighting it was determined that there simply was not enough light to properly fill the space. By retrofitting over 500 interior troffers and replacing LED lighting in over 600 high bays our team was able to brighten the space, increasing safety and productivity, while reducing the facility's monthly wattage by a whopping 59%, leading to over $150,000 in annual energy savings. Just 27 months later their project has already payed for itself and not only do the employees at BAE Systems enjoy a safer, more productive, workspace, the owners are putting money towards growing their business instead of powering it.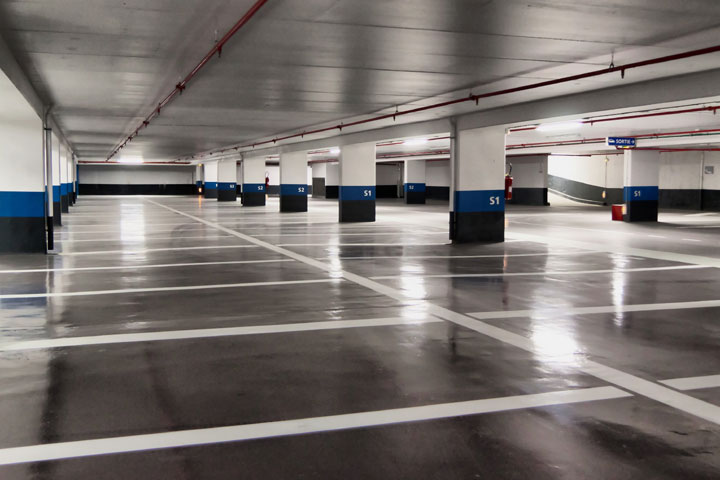 Wentworth St. Parking Garage
151 8 ft. T8 high output single lamp strips replaced with 140 LED Canopies
*58% Wattage reduction for entire garage
Up to 10 years of zero maintenance
Wentworth Street parking garage was the perfect savings candidate for our sustainable lighting solutions. Not only do they save on their monthly energy bills, but also on any service fees associated with replacing bulbs. Customers parking want a well lit area to feel safe utilizing your facility, and changing an entire garage full of lighting is timely as well as costly. Our team was able to kill two birds with one stone here. By replacing the garage's outdated lighting fixtures with 140 of our LED canopy lighting systems we successfully reduced the wattage by 58% facility wide. Customers feel safer using the brighter, sustainable facility, while owners enjoy more money in their pocket and up to 10 years of zero maintenance on their new lighting system.
Department of Social Services
433 prismatic troffers replaced with LED flat panels
78 compact fluorescent fixtures replaced by LED wraps
3 year payback
*68% Wattage reduction throughout entire office space
Offices provide many opportunities to save money and increase productivity with energy efficient lighting and controls. After a thorough analysis of the office's lighting and fixtures, our team found that by replacing the outdated prismatic troffers with LED flat panels, they could reduce energy consumption by almost 70% office wide. New LED lighting throughout the office also means a better work environment for their employees. The brighter, more sustainable lighting, creates enhanced visibility and increased productivity during the work day by reducing eye strain and increasing accuracy when reading documents. This can be especially important for employees reviewing multiple documents in a day. 36 months of increased productivity later, the entire new system had already paid for itself. Happy eyes and lower bills now pave this office's path to a cleaner and brighter future.
196 Prismatic Troffers replaced with LED Flat Panels
67% Wattage reduction throughout entire office space
$5,600 Utility provider incentive
3.3 year payback
76% Wattage reduction throughout entire office space
Up to 10 years of zero maintenance
3 year payback